Join USGBC-LA and our Green Homes Committee for a discussion with experts focused on the innovative architectural project Bridge House!
The Dan Brunn Architecture tour with USGBC LA uncovers the architectural project Bridge House, born in the heart of Hancock Park. The 4,500-square-foot home serves as a demonstration of innovative systems and forward-thinking processes.
Finished in 2019, Bridge House has been activated with various events sponsored by the likes of BMW, Pentair, Isabel Marant, and Oliver Peoples. The sustainability aspects of the home have received praise from several notable magazines such as Interiors, Elle Decor, Dwell, LA Times, AIA-LA, and many more. Principal Dan Brunn will lead the tour. Amid the guided visit, guests will capture the minimalist aesthetic evident in the dynamic spatial choreography of light and volume throughout Bridge House.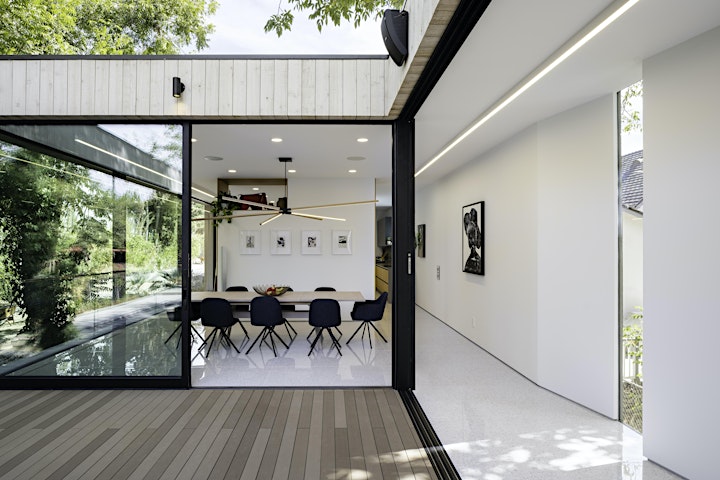 The USGBC-LA Green Homes Committee provides a dynamic platform for exchange, engagement, and alignment to encourage healthy, sustainable, affordable, and regenerative practices in home building and living. The committee aims to address the inequities of access to information, resources, and technology by working to advance and diversify the awareness, knowledge, and innovation in greening homes. Through providing education, training, and outreach to engage all sectors such as municipalities, trades, manufacturers, and the general public, we empower and advocate for our local neighborhoods to enhance our collective community resilience and well-being.
USGBC-LA advances the passions and elevates the expertise of our members through curated community groups. Learn more about our member groups, and open doors to collaborating with a network of authentic, purpose-driven advocates.
We look forward to having you be a valuable part of our organization — volunteering alongside our passionate members to be a change maker in your local community!
Your support is crucial in helping us advance and continue our initiatives to transform Southern California into a more sustainable region for all! Donate now!